According to the latest crime stats, murder is up by another 3.4% and sexual offences in SA rose by 4.6% in 2018/19.
The recent spate of gender-based violence in the country seems to support the findings of the latest study released by SAPS.
The Portfolio Committee on Police heard that murder, sexual offences and other contact crimes rose in the past financial year with a staggering 21 022 murders reported – 686 more than the previous year. In addition to this alarming number, a further 18 890 attempted murders were reported and these too have increased by 746 cases or 4.1%. The murder rate in South Africa is 36.4 murders per 100 000.
Sexual offences account for 52 420 crimes – an increase of 2 312 cases year on year and common assault cases account for 162 012 incidents.
Robbery with aggravating circumstances which includes hijackings, cash-in-transit robberies and robberies at residential and commercial properties, increased to 140 032 cases.
Alarming stats have been revealed with regard to children who were murderers which is most prominent in the Eastern and Western Cape. More than 700 people were murdered by children over the past financial year.
According to Police Minister Bheki Cele, "alcohol is a big portion of people committing crime." He said, "We are revitalising some units that had impact before, we are working with more NGOs and society at large, and working more as a cluster to put criminals where they are supposed to be."
WORST AREAS
All provinces have recorded increases when it comes to contact crimes.
Nyanga station in the Western Cape leads when it comes to trio crimes. But Gauteng has 19 stations featuring in the top 30.
Murder cases reported were highest in Nyanga (289), followed by Delft, Khayelitsha, Inanda, Philippi East, Mthatha, Umlazi, Harare in the Western Cape, Plessislaer and Gugulethu.
Townships are the hijacking hot spot of SA and Toyota is the most hijacked car in the country.
Follow the conversation. we'll be unpacking the numbers.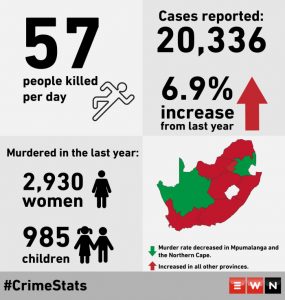 Photo credit to ewn.co.za