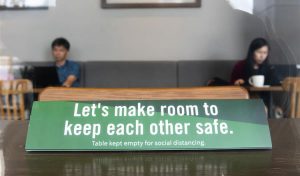 It's a double whammy for companies as they face the devastating financial consequences of lockdown on the one hand and the potential for the spread of COVID-19 virus in the workplace on the eventual return to work.
There is concern about a second wave of infection once people start returning to "normal" routines which include a possible phased return to schools and various industry sectors, quite realistically from the beginning of May. The return is much anticipated by business owners who are fighting to stay afloat during lockdown but it also heralds a call to business to invest in professional hygiene and cleaning services to ensure that their workforce is protected against the potential threat of the spread of COVID-19. The reality is that an outbreak of COVID-19 in a facility or school would most likely mean shutdown to protect others and this will inevitably have a devastating impact on the bottom line.
The tourism sector has been particularly hard hit by the global pandemic and by the nature of their business, hotels, guest houses, airports and airlines will be under pressure to adhere to much more stringent cleaning and hygiene procedures to protect their staff and patrons. This morning, FlySafair posted on social media that flights would resume on 1 May which brings with it a mixture of relief and paranoia. The industry needs to return to business as soon as is reasonably possible to keep the doors open and retain much needed jobs.
By their very nature, schools and universities appear to be making plans to adopt a mix of a form of online learning, facilitated by technologies like Zoom, WhatsApp, Google Classroom and for the auditory learners, some Podcasts. According to DispatchLIVE, Grade 12 and seven will be the first to return to school, possibly on May 6. Although there is reportedly a phased approach in the pipeline, no official statement has yet been made by the presidency. Until then, the question for parents will be how safe their children are at schools. For schools, this means increasing measures to apply social distancing rules in classrooms and corridors and taking increased measures to sanitise high risk items and areas in particular.
According to our specialist hygiene and cleaning experts at RedAlertSA, the company offers a full spectrum of solutions to sanitise workspaces which includes protective clothing, masks and gloves through their Safety Solutions Division, and cleaning solutions that meet the new specs for increased protection, as well as a range of hygiene products and sanitisers designed for superior protection.
The Red Alert teams have all undergone COVID-19 training to equip them to deal with the new environmental threat posed to society at large. They are ready to prepare your offices and classrooms ahead of time.
Red Alert is an approved and authorised essential services provider, at your service, always.