As tropes in crime films go, the slick bank heist is one of the most romantic and frequent, ripe for cool cinematography, interesting costume and brazen dialogue. As such, they've always been pretty intriguing, especially how old-fashioned they are in an age of hacking and cryptocurrencies. It's almost a nostalgic thing.
In 2005-2006, Clay Tumey "studied and perfected the art of bank robbery", never getting caught but still going to prison about five months after his last robbery because he turned himself in, serving "three years and some change".
On Reddit, Ask me Anything, he said the following:
On research and whether he had a mentor
"Only the Internet. I studied countless reports of other robberies that had gone wrong and people who were caught."
On whether he used a team
"No. I never told anyone what I was doing. One of the main things I learned from research was that an overwhelming number of people are caught because they didn't do it solo. So I never let anyone (not even my wife or best friend) know what I was doing."
On his MO
"Walked in the bank and waited in line like a regular customer. Whichever teller was available to help me is the one I robbed. I simply walked up to them when it was my turn to be helped, and I told them — usually via handwritten instructions on an envelope — to give me their $50s and $100s."
On how he didn't carry a gun or threaten people
"No threat. I just told them what I wanted, and they complied. This is how it works in America because the amount of money a bank gives up ($5-$7k on average) per bank robbery is infinitely less than the amount of business they'd lose if shit got wild in a bank full of customers.
"They just want to give you what you want and for you to get the hell out of their bank."
On his most memorable heist
"One teller skimped out on me and didn't give me all I had asked for, and I told her, "You can do better than that." She just shrugged — palms up like a little kid — and said, "That's all I got." Pretty ballsy on her part.
"She also pocketed a $100 bill for herself. Needless to say, she got fired."
"When my lawyer first brought all my paperwork to me, I noticed that the amount was $100 off for that particular bank. I told him I was 100% sure that they had the amount wrong. So he told the police, the police told the bank, the bank checked the video…..and they saw her take it. Insane, huh?"
On the final job that didn't go as planned
"The teller freaked out as soon as I turned to leave the bank. She started screaming "lock the doors, lock the doors" but I ignored it and just kept walking like nothing was happening. I got out before the doors were locked, but a guy walking into the bank seconds later already found them locked. He was pissed, of course, because it wasn't closing time, and he thought he had gotten there too late.
He obviously didn't realize the guy who had just walked out of the bank and past him had just robbed the bank."
On morals, and whether he regrets what he did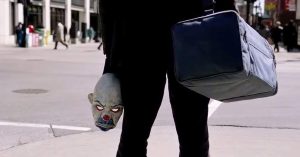 "I never felt guilty because I didn't attack or assault anyone. Under the circumstances, I was as nice as I could possibly be to the bank employees because I did feel a little sympathy for them.
"I think morality is very subjective. I wouldn't steal from an individual person because I'm not comfortable with that. The banks, however, consider this kind of theft an acceptable loss, so that was okay with me being part of the loss that they consider acceptable.
"Part of my process did begin with how poorly I thought rich people handled their money. I'd always thought, "If I was that rich, I could change the world instead of just piling up cash." I don't use that to make bank robbery "okay" but that's what made it okay for me at the time."
"I still acknowledge what I've done, but the process and experience of going to prison and finding myself (as well as a purpose in life) has really made it all worth it, relatively speaking. It's hard to regret something that has turned into something so good."
Tumey has set up a Kickstarter to fund a book he intends to write about how 'bank robbery changed my life'.
This article appeared on independent.co.uk.