Improving worker safety continues to be a major focus in 2021, particularly in the construction, engineering, and manufacturing industries. In fact, survey data shows that Environmental Health and Safety (EHS) directors in those three industries increased their budgets in 2020.
So where are EHS professionals focusing those funds? Let's take a look.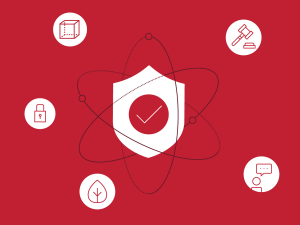 1. 'Smart' personal protective equipment
The use of personal protective equipment (PPE) and worksite clothing with sensors that monitor, collect, and record biometric, location, and movement data in real-time is on the rise. In fact, the annual global EHS survey revealed that high priorities for 2020 were improving incident management (51% of respondents), achieving environmental compliance (46% of respondents), and enhancing occupational health, industrial hygiene and ergonomics (34% of respondents).
This "smart" equipment collects the same data as wearable devices, including the user's heart rate, calories burned, steps walked, and blood pressure. This equipment also tracks advanced metrics like the user's blood alcohol content, blood oxygen levels, sweat levels, and vital signs. Some products may even detect changes in environmental conditions. Next-generation smart PPE is expected to monitor workers' fatigue and alertness, which may help managers determine who needs a break and when.
While there are some privacy concerns about how this data is collected and used by employers, monitoring factors that could contribute to accidents may significantly reduce the number of workplace accidents.
2. PPE that reflects workers' personal preferences
Along with technological advances that enable "smart" PPE, there are also protective items that respect workers' personal preferences. These may include items like:
Looser-fitting respirators that allow workers to wear facial hair

Seamless, fine-knit gloves that provide increased comfort

Lighter fabrics and special textiles that enable clothing to meet protective standards while still providing style, comfort, and higher employee satisfaction
Through continued advancement, PPE is evolving to better reflect workers' preferences.
3. Mobile apps and tools
Mobile tools are increasingly being used to complete tasks and oversee the safety of employees who use mobile devices on the job. In particular, workplace safety tools (such as mobile inspection and incident applications) are expected to become more prevalent, as are apps that turn off workers' mobile devices when they are completing essential tasks.
4. Shifting focus from detection to prevention
Until recently, occupational health and safety programs have largely been focused on detecting unsafe conditions, meaning companies spent more time mitigating risks after an accident than preventing them. Now, safety experts recommend that companies shift away from reward and recognition programs that focus on identifying risk to prevention-based programs that emphasize education, training, and identifying issues before someone gets hurt.
5. Increased retraining of workers
Hand-in-hand with the shift from detection to prevention is a renewed emphasis on training and retraining workers to better ensure compliance. Research shows that employees benefit from ongoing safety training and regular safety skills refreshers.
As such, more companies are implementing annual safety retraining programs designed to refresh employee safety skills and provide ongoing safety training on specific topics. Some of this education is delivered via "micro-learning," which allows employees to complete short training sessions on the device of their choosing. Ongoing training ensures top-of mind-awareness and reduces injuries, according to experts.
To implement a goal-oriented safety culture, leaders need to make sure employees are involved and inspired today, tomorrow, and beyond. Most experts agree that there's been a gradual shift away from traditional top-down approaches to newer ones. The key to adoption and engagement is having senior managers who practice genuine and visible safety leadership.
HSE experts suggest companies use a behaviour-based safety strategy, which encourages effective, interpersonal, supportive, and corrective behaviour-based feedback throughout the organization.
*ADAPTED FROM PIEINSURANCE.COM